40 Sales
| | | |
| --- | --- | --- |
| Last Update | : | January 10, 2022 |
| Created | : | February 20, 2020 |
| Category | : | Admin Templates, Angular JS, HTML |
| Files Included | : | CSS Files, HTML Files, JS Files |
| Compatible Browsers | : | Chrome, Edge, Firefox, Opera, Safari |
| Compatible With | : | Bootstrap 4.x |
Documentation
Vito – Angular 9 (NgRx State) Admin Dashboard Template
Every firm or organization needs an insight into current performance to plan the future action plan and Vito is the perfect and premium designed Angular 9 (NgRx State) Admin Dashboard Template. The Angular Admin Dashboard Template is operational and is focused on building complete functional data visualization tools for marketers and entrepreneurs.
The Angular 9 Admin template comes with multiple dashboard layouts and Working Apps like Project Management App, Social App, To-Do App, Calendar App, Email App, and so on.
The Angular Admin Panel template consists of inner pages like Login page, Register page, Password Recovery page, Email Confirmation page, Lock Screen page, Timeline page, Error pages like 404 and 500, Blank page, Invoice page, Pricing page, Coming Soon page, and FAQ page are customizable. 
Vito – Angular 9 (NgRx State) Admin Dashboard Template comes with NgRx State Management model built with Angular 9 framework. The Angular Admin Dashboard Template features RTL support which allows you to launch your dashboard in different languages.
The Angular 9 (NgRx State) Admin Dashboard Template comes with Google Maps integration and a fully responsive layout which can be customized as per the requirement of the project.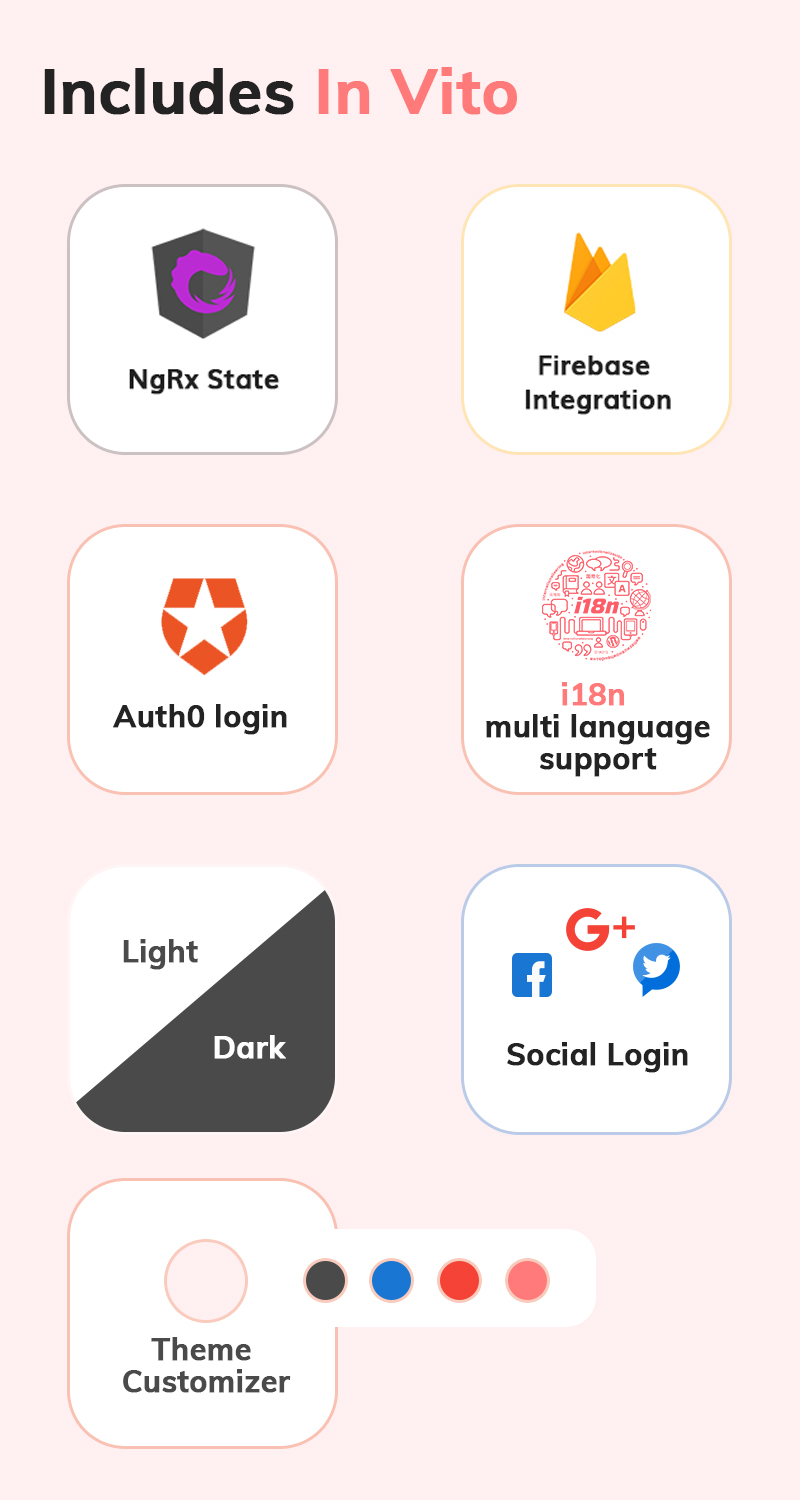 What Can You Do with Vito – Angular Admin Dashboard Template?
Standing as one of the most best-selling Admin templates on Themeforest, Vito – Angular 9 (NgRx State) Admin Dashboard Template is ideally designed for modern businesses. The Angular Admin Dashboard Template can help multiple domain industry businesses.
The Angular 9 Admin template can be used to launch an Operational Dashboard for organization and project managers, an Analytical dashboard for Supply chain businesses, Strategic Dashboards for senior-level management in any scale of organizations, Operational Dashboard for a team leader who wants to focus on optimizing short term goals, and so on.
With a solution that is flexible enough to accommodate growth, this Angular Panel Template helps businesses to scale up at any time. The Angular 9 (NgRx State) Admin Dashboard Template can integrate disparate data sources in a sophisticated and intuitive way. 
5 Solid Reasons To Buy Vito – Angular 9 Admin Template
Bootstrap built, Vito –

Angular 9 (NgRx State) Admin Dashboard Template

includes two dashboard demos, Working Apps, and Inner pages that can be customized easily. 
The

Angular Admin Panel template

is cross-browser compatible which ensures your backend looks highly accessible and user-friendly. 
The

Angular 9 admin template

has won a couple of outstanding design and professional clean code awards from popular and prominent Design and Coding names. 
Vito

Angular 9 (NgRx State) Admin Dashboard Template

comes with a lifetime of free template update to ensure your build with Vito is up to date with the latest UI trends. 
The

Angular Admin dashboard Template

comes with simplified, detailed documentation and offers professional technical customer support and assistance. 
Template Features:
Stunning Dashboard page layout
AOT Compiler
Build With Angular 9
NgRx State Management with module-based
RTL Support
Firebase Auth Integration & CRUD Module
Multiple Language Support + i18n Integration
Component-based structure
OAuth0 Integration
Google maps
Easy To Customise
Unique, Clean, and Modern Design
Fully Responsive
Cross Browser Optimisation
Free Google font and icon used
And much more….
Refund Policy
We don't offer a refund. (If the item is downloaded)
Please read the description and compatibility content thoroughly before purchasing as we don't offer a refund if you buy it by mistake.
Support & Assistance
Faced a problem? Need assistance with the Angular 9 (NgRx State) Admin Dashboard Template or other product? No worries – our customer support team is always ready to help you.
Support requests are being processed on business days from 9:00 to 18:00 (GMT +05.30) [generally] within 24h to 48h in the order they were received.

We suggest, while our team reviews your support request, please read the documentation that comes in the zip file of ThemeForest. You can download it from ThemeForest: https://themeforest.net/downloads

We are in GMT+5:30 timezone. We address all the support queries 6 days weekly (Sunday off).

If any support ticket has no response from the item owner for 7 days, the ticket will be considered closed. If you need further assistance you can create another ticket or drop us an email asking to re-open the ticket for you.
Note: We have launched our support portal on Desky. Please raise a ticket here at https://iqonic.desky.support/
If you wish to know more about the Vito template, we've articles, public tickets, and sources in our Knowledge Base that might be useful.
Check out our YouTube channel to find how-to tutorials and optimize our product exactly as per your website needs.
Please Note: Live preview images cannot be used directly in a client's live project. Those are used for preview purposes only.