Pawlly - All-in-one Pet Care Solution in Flutter + Laravel
Pawlly is the comprehensive pet sitting software designed to make life easier for pet care professionals and pet owners alike. Whether you run a pet sitting service, a dog day care center, or a dog grooming business, Pawlly – pet care software is your all-in-one solution. With its user-friendly interface and powerful features, managing your pet care business has never been this efficient.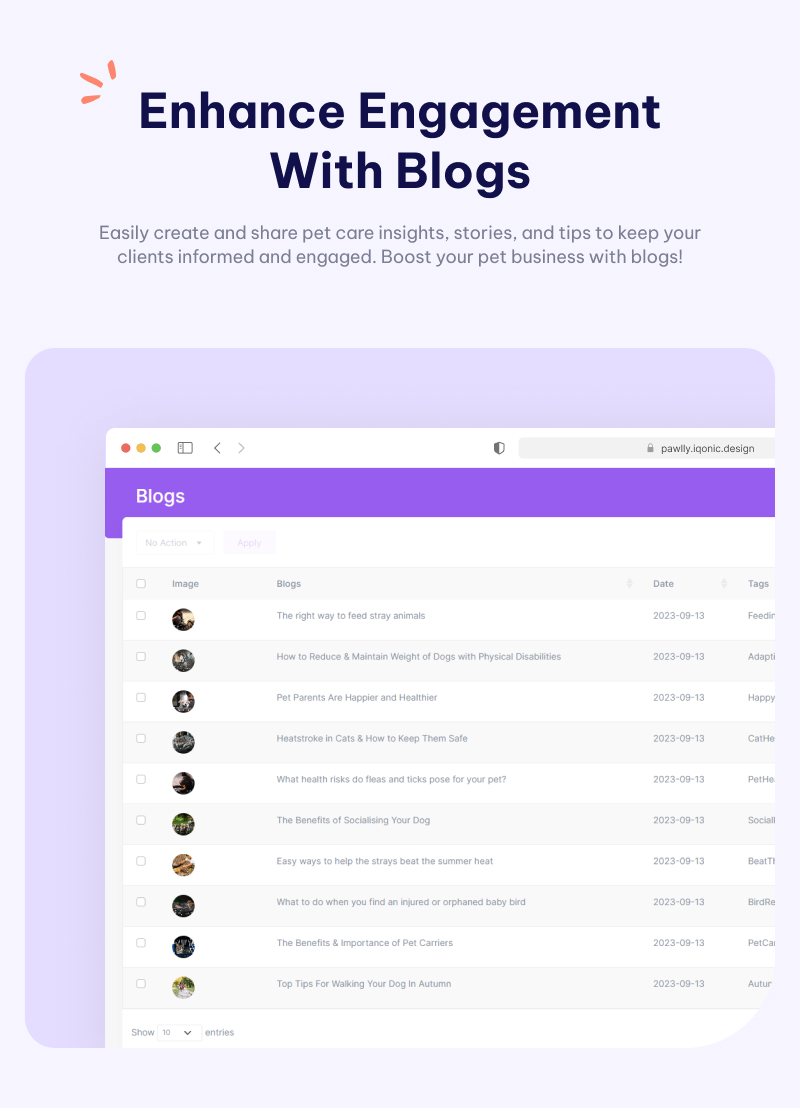 Key Features of Pet Sitting Software:
Appointment Booking and Scheduling:

Effortlessly manage appointments and schedules to keep your pet care business running smoothly.

Employee Management:

Assign tasks, track employee performance, and maintain a well-organized team.

Payments – Online and Offline:

Accept payments online and offline, simplifying your billing process and ensuring you get paid promptly.

Client Management:

Maintain detailed records of clients and their pets, including medical histories and special requirements.

Events Management:

Organize and promote events related to your pet care business.

Blog Management:

Share valuable insights and updates with pet owners through an integrated blog system.

Real-time Notifications:

Stay connected with pet owners through real-time updates and notifications.

Financial Reports:

Access comprehensive financial reports to gain insights into your business's performance.

Reporting:

Generate detailed reports for better decision-making.

Powerful Settings Panel:

Customize and configure Pawlly to your unique business needs with ease.

Ecommerce: Expand your business with built-in e-commerce capabilities to sell pet-related products and services.
Advantages of Pet Sitting Software:
Streamlined Booking:

Simplify the booking process for your clients and improve your scheduling efficiency, allowing you to serve more pets and their owners.

Seamless Communication:

Stay in touch with pet owners through the integrated communication system, providing updates, photos, and peace of mind.

Automated Reminders:

Reduce no-shows and missed appointments with automated reminders for clients, ensuring your business runs smoothly.

Financial Management:

Keep track of your earnings, expenses, and overall financial health with the intuitive financial management tools.

Customization and Flexibility: Tailor Pawlly – Pet sitting software to your specific needs with customizable features, making it the perfect fit for your unique pet care business.
Whether you're a pet sitter, dog day care provider, or a dog groomer, Pawlly's pet sitting software is designed to help you succeed. Take your pet care business to the next level with Pawlly – the smart choice for smart pet care professionals. pawlly – pet care software is one of the best Flutter apps.
Faced a problem? Need assistance with our pet sitting software or other product? No worries – our customer support team is always ready to help you.
Support requests are being processed on business days from 9:00 to 18:00 (GMT +05.30) [generally] within 24h to 48h in the order they were received.
We suggest, while our team reviews your support request, please read the documentation that comes in the zip file of Codecanyon. You can download it from Codecanyon: https://codecanyon.net/downloads
We are in GMT+5:30 timezone. We address all the support queries 6 days weekly (Sunday off).
If any support ticket has no response from the item owner for 7 days, the ticket will be considered closed. If you need further assistance you can create another ticket or drop us an email asking to re-open the ticket for you.
Have pre-sales questions or concerns, please write to us via our Mail
If you like our pet sitting software or other product and support then please drop a rate and write a review at: https://codecanyon.net/downloads
Refund Policy
We don't offer a refund. (If the item is downloaded)
Please read the description and compatibility content thoroughly before purchasing as we don't offer a refund if you buy it by mistake.
46 Sales

Files Included

:

Category

:
Need Customization ?