9 Best Free & Premium Inventory Management Admin Template for your business
Inventory Management is essential for any business, especially for online businesses which are at a constantly rising level and has to maintain a good level of influence. And for maintaining a good amount of influence in business everyone wants a stronghold on Inventory management. 
If an order is missed or left out then there is a customer who is not satisfied. Because a customer demand has not been supplied. 
Now I know what you would think like "I have a WordPress design cannot maintain or have a good Inventory management" 
Then let me relieve you with that we are getting you the Inventory management which will work with WordPress based business too. Every online business can catch up highest potential from our Inventory management. 
Now Stick till the end with me so that I can show you how much advantageous it is for you and how much you can gain from it.
POSDash Lite 
POSdash lite version has a neat and simplicity styled Free HTML Inventory Admin Template.
This significant Free HTML template for inventory management system offers survey key performance indicators and also operational business processes which will manage, modify and optimize inventory most efficiently. 
Your process will be done faster and time can be saved with the help of SASS, Gulp, and handlebars latest technology. 
Three Demos are ready for usage 
1 – Dashboard Admin Template 
2 – Product List Free Admin templates
3 – Report admin template 
It is a full package for industrial as well as corporate inventory management and reporting roles. 
The neat and modish is dominant with its utility-driven inner pages products to enlist the offers. The sales page for getting vital details about the sales of the company. Purchase page for purchase check and inventory management, categories page with appropriate categorization, for managing and monitoring returns their return pages, report page for analyzing the performance of the other areas of department and company. Report dashboard will bring the user interface for creating a report of sales and analyzing bestsellers and high-performing products. 
What can you achieve with POSDash LIte – Free HTML Inventory Admin Template? 
POSDash is a lite Free HTML inventory Admin Template that has been created for any stock management firm, products warehouses, and inventory storage, sales management agency, point of a sales web application, and related industry domain. 
4+ benefits you can gain from POSDash lite – Free Template for inventory system!
POSDash will save your development time and costs to inspect company performance without having to run complicated software.
Its components are performing in such a way that you can easily match specific project requirements.
POSDash lite is an HTML template that can be integrated into existing systems without hard work. 
It is the free version of the Free Admin Template with all features and functionality which are required. 
A fully packed and with more advantages there is a premium version of the inventory admin template is available.
Woocommerce Stock Manager
 Woocommerce is one of the most popular Inventory Management. Woocommerce is the free cost and easy plugin that facilitates you with one single screen to manage stock for products and their variations.
With the help of this can easily monitor your stock in one table, which shows stock status, price, weight, and other important product data. The table will allow you to make it streamlined as possible by showing or hiding fields as needed. 
Smart Manager Lite for WooCommerce 
Smart Manager for Woocommerce is for manage and bulk editing Woocommerce Products, variations, orders, coupons, any WordPress post type. All from a single screen using an Excel-like Spreadsheet. 
Single screen interface to browse and manage these post types of products orders, blog posts, and coupons. 
3+ Features that are majestic and outstanding 
1 – Inline Edit records from the grid. 
2 – Perform 3 inline edits at one go without saving the changes. 
3 – Live Preview 
4 – Infinite Scrolling for smoother navigation. 
No restrictions on the post type fields available to edit. You can even edit your post types by using search filers, date filters, and column filters. You can add or delete multiple products, orders, coupons, posts.
Search using keywords, categories, attributes, or any other fields. Advanced search with conditions and search operators. Admin columns. Sticky header to always stay in control when scrolling through records. Distraction-free mode while operations are on.  
The free version of Smart manager is advantageous which will also help you save your precious time. 
Poshop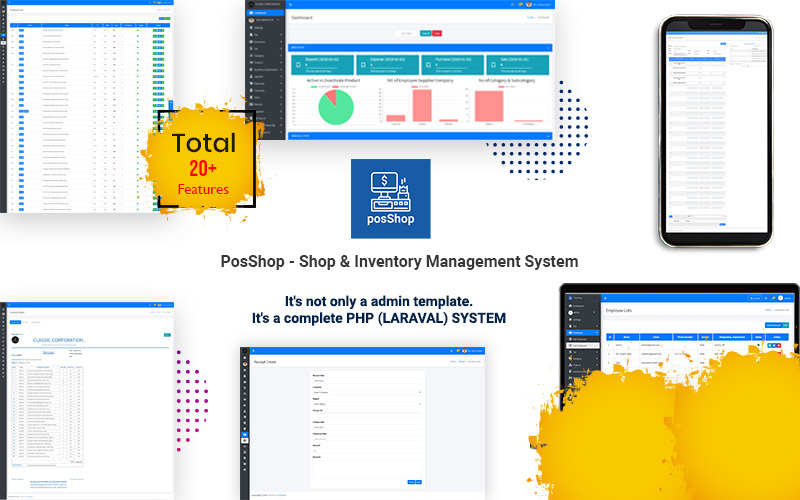 Poshop is an artificially intelligent online system which is for shop management with shop, HR, Accounts management in PHP. It applies to any kind of shop offering modernized management on products, suppliers, purchases, sales, payments, receipts, employee account ad extensive reports management and applies to your system profile. 
Poshop brings your impeccable features which help you to stand out from other templates Dashboard, Profile Management, My profile, Change Password, Settings, File management Employee Management, Category Management, Product Management, Supplier Management, Purchase Management, Company Management, Sale Management, Payment Management. Dailly Accounts Management, Easily Customizable and secured. 
MaterialPro 
MaterialPro Vuejs Admin dashboard is based on vuetfy and comes with a fresh look with active features. It is based upon famous google material design material PRO Vuetify dashboard allows you to customize a few application designs, which can be a boost start for building a relative application. 
With the Admin Panel Template MaterialPro which comes with multi-purpose any kind of web application and product. You can use it to start inventory management, warehouse management, according to software, any SaaS-based application, and many more. It is built in a vision that can keep customers satisfied and make them feel comfortable while turning creative vision into reality. It has been created by our PRO designers. 
MaterialPro premium version is already favored by many other customers with different frameworks like MaerialPro Angular Template and MaterialPro Bootstrap. One-time purchase end of this template with lifetime updates and 1-year premium support. 
Livani 
Livani is created by utilization of Firebase Firestore, Firebase Auth, AWS S3, Stripe, Express.js, etc. The template has a stripe payment which makes an easy checkout feature. Overall Livani is a Smooth and clean design with the next JS Working eCommerce template. 
On the top of the side, all products are seen from firebase firestore. Functional Pagination including demo registration & login using react-redux & JS cookies. The livani has working features such as Products Quick and Details View, Add to cart, Real-Time, Stripe Checkout, etc. 
Livani has a working Admin Dashboard for managing inventory including Order management, Viewing Customer List, etc. E-commerce store statistics also can view on the dashboard. 
With amazing Retina Ready visual UX/UI experience.
MedQ 
MedQ is a reactive and Next JS based working eCommerce template for emergencies. It is Developed using React, Next.js, Mongo Stripe, Bootstrap 4.x, etc. Template also brings you Stripe payment which helps you for easy checkout.  
MedQ also comes with User Signup, Login, Two User Type Roles, Functional Pagination Dynamic Search, Checkbox Search, Dynamic Routing, Separated API Routing, etc. 
It has a responsive layout with an attentive Retina Ready visual UX/UI experience. Template has 5+ demo variations with lots of inner pages. And a working Admin Dashboard for managing inventory including other essential features. 
You can customize as per your requirements with detailed documentation which will help the templates uses and customization based on the ultimate eCommerce website needs. 
Deposito 
Deposito warehouse admin is an adaptive dashboard that features logistics like storage inventory, appointments, Revenue, Stats, Sales Visits, monthly revenue, and performance tracking. This template has a unique and minimal look of the warehouse CRM's software. 
Desposito Warehouse admin dashboard Template is a clean way to use the design for your dashboard projects. This can be used for admin dashboard applications for your online applications. Admin theme panel for backend design and UI interface of your web apps. Admin HTML can be utilized as an online application and Softwares. 
Clean, Modish, New, Creative look for your application. It also has SaaS, a combination of revenue, orders, Visitors. 
Despostio warehouse Admin Template has an instant responsive layout for Data, Reports, analytical, & warehouse billing concepts and theory. 
Desposito also shows an overview of your current monthly sales. Analyze and track your job statistics with our HTML template plugins and widgets. Modish-looking HTML template built on bootstrap 5. 
Inventory Management System 
Inventory Management System is developed by PHP, MySQL, Bootstrap Library, Ajax, and JQuery. Files included Bootstrap, PHP, MySQL data sample. 
The system is providing you an outstanding feature like:
1 – Manage Category
2 – Brands 
3 – Products 
4 – Multiple product photos upload
5 – Order and report to a user 
6 – Print Receipt 
Conclusion-
We are aiming and peaking towards the top and for the highly AI-first world and at this peak time for us and for tech and for software start-up to make a mark. With this IT Solutions and Technology-Driven WordPress Theme. We are sure you will be ahead of every tech- trend, and you will know how your future website will look like. 
Make Sure to Subscribe to our newsletter for the latest theme, templates, and tools to let you Structure and Fortunate Web-project without any sedulous dealing with coding skills. Don't Forget to Subscribe to our Youtube channel to get an instant video tutorial. Follow us on Facebook and Instagram to get Quick Tips, Educational Posts, infographics, and a lot more. 
Was this article helpful?